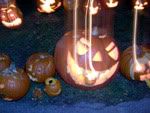 Well it's officially seven minutes into my month of scary reads, contests, guest posts and more, and it's already looking great!
Grab a button and join in on my Giving me the Creeps page by adding your links to scary reviews, contests,or interviews so we can share the scary all month long. Because what's better than tricks
and
treats??
Starting mid morning tomorrow I'll have the first ever
sccccaaaarrrry
feline Friday, followed by my Review of the super creepy Forest of Hands and Teeth Saturday (thank you Mrs. DeRaps reads for putting me on to it).
During the month they'll be reviews of some new authors, as well as some old favorites (Christopher pike people!! and Stephen King!!). And I've already lined up a wicked guest post mid-month tying into a great sounding book for review.
I hope everyone will make time to stop by and share the scary all month long, even during the bulge inducing Canadian Thanksgiving, maybe we can scare ourselves thinner after the turkey binge (for you Americans I can repeat the scariest review for you again in November if you like).
Happy First Friday of Giving me the
Creeps
October!!