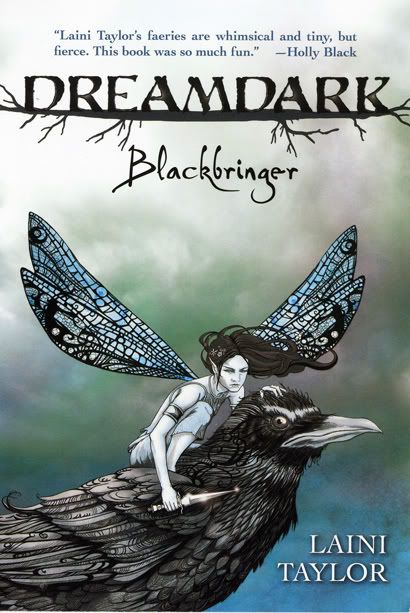 Last April, while in Books of Wonder, I ran into signed copies of the two first books of this enchanting series. For some reason, that I no longer remember, I had heard of this series and thought it impossible to find, so I was super excited to run into both copies in hardcover, signed by the author Laini Taylor and the artist Jim Di Bartolo (her husband).
Alas, as every bibliophile knows, even the most exciting book can sit on your shelf for 8 months while you work your way to that perfect moment when it's
the
book to read. Having now read it I'm infinitely sorry I spent 8 months ignorant of just how enchanting it and it's sequel Dreamdark; Silksinger are!
Epic in scope, like Lord of the Rings, filled to the brim with wild and fantastic creatures like Fablehaven, and rich with it's own legends and histories like Harry Potter this series is yet so individual that it's hard to describe just how fantastic it is.
Magpie Windwitch, a faerie unlike any other, with a merry band of gypsie crows for brothers in adventure, and a wind as a Grandfather, is a force unto herself. A hundred some years old, she's just a sprout by faerie standards, but she'll change the world as the Faeries of Dreamdark know it through her sheer willpower and stubbornness alone. In an effort to end a terror known simply as the Blackbringer, she'll raise the sleeping Djinn King from his 25,000 year slumber, and by so doing discover that as unusual as she thought she was there is much, much more she is yet to discover.
This book was action packed, lyrical, funny and so completely engrossing that I was completely swept away by it. The characters are so lovable and endearing, even the bad ones held me captivated by their stories and adventures. Laini Taylor has developed such a huge, rich world with only glimpses of Humans, and I was immediately swept away by it in a way that bespoke of the singular richness of Lord of the Rings. And her husbands art, sprinkled throughout the book was such a beautiful counterpoint, I can't imagine the story without it.
Obviously open to a vast and sweeping story arc reaching into many books to come (fingers crossed), I couldn't wait to jump into Silksinger and join Magpie and the boys on the next great part of their adventure.
Kudos to Laini for creating one of the most captivating books I've read in 2010. The Dreamdark collection will definitely be some of my favourite books, landing on the honoured shelf with Harry Potter, Hunger Games and other epics.
Make your New Years reading resolution to read this ASAP if you haven't already!
Dreamdark; Blackbringer, By Laini Taylor
Published by
Putnam Juvenile, 2007