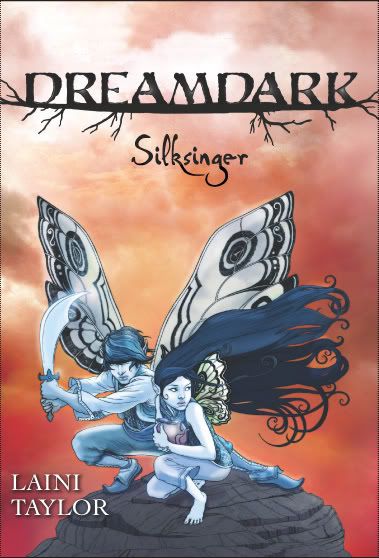 The Sequel to Blackbringer, Silksinger did not disappoint.
Laini Taylor has officially proven, in my eyes anyhow, that she can hold her weight in the serious authors category. The wealth of richly imagined histories, cultures and beings populating her Dreamdark world grows exponentially in Silksinger, and instead of becoming watered down material, only enhances the reading experience of her books.
Dreamdark; Silksinger finds Magpie, the Crows and Talon on a mission to find the sleeping Dijin throughout the world. But things are quickly complicated by the discovery of a lone Silksinger, a group of faeries believed to be extinct, who is in dire trouble and desperately trying to save the dijin the Silksingers have been protecting all these years while in hiding.
The story arc widened considerably with this installment, adding two new and horrific villains, as well as two new (to the reader) races of faeries who are intrinsically tied into the fall of Fade. A page turning, action packed story, with such a sad ending it brought a few tears to my eyes and was so enjoyable it had me racing to Laini's blog to find out more about the next book. So I was pretty crushed when I found this on her blog post:
My New Book is Announced!
(June 21st 2010)
After I finished Silksinger and it became clear that the publisher (Penguin) was not hungering for another Dreamdark book at that moment in history*, *re: more Dreamdark books: some day I will finish the series! I am deeply committed to Magpie and crew and feel sick about leaving them in limbo. I will see their story through. It is just not in the cards for the next few years.
No honestly, I'm still so, so saddened by the news. Not what you want to hear after falling in love with a series and being left on a huge cliff hanger. Honestly, how could any publisher not adore this series!
But even after knowing this, if you read any fantasy books at all this year, make sure you read both Dreamdark: Blackbringer and Dreamdark; Silksinger. I'm telling you, you've missed out on something awesome if you haven't read them yet.
Dreamdark; Silksinger, By Laini Taylor
Published by

Putnam Juvenile, September 2009